Upland Hunting Dog Training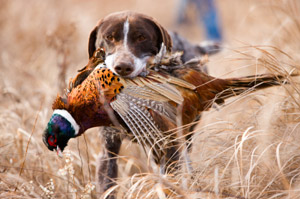 Gun dog training for the discriminating upland hunter. We offer
Indiana gun dog training
for all pointing breeds of all ages. Complete training program designed to take dog from initial exposure to birds and gunfire to a dog that:
Will know basic obedience commands; Come, heel, Whoa, kennel, load, here.
Is steady to wing and shot
Will Stop to flush
Will Back/honor another dog
Training usually takes 3 months to complete
Additional Services:
Does your dog have behavioral problems; gun shyness, blinking or just not handling well in the field? We can help you with most behavioral problems you will encounter.
Trained Retrieve – No force training (toe pinch, ear pinch) here. We use humane methods to teach retrieval skills.
Field Obedience – Dog will be trained to handle with voice and whistle commands.
Indiana and Midwestern States Upland Hunting Dog Training
Contact us today to find out more about our Indiana Gun Dog Training services