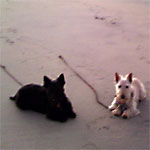 "I have known Mark Brooks for almost 10 years. He stepped in to help us when our Roxie was a puppy, and his work with her was nothing short of amazing. In three weeks time he turned a stubborn Scottie with an attitude into an enthusiastic participant in all aspects of training. The fact that she would (and still does) respond to both verbal and hand signals was an especially nice touch!

Five years later when we adopted our second Scottie, Cyrano (pronounced si'ran-o), calling on Mark was a given. He also provided "brush up" for Roxie at the same time, which was very helpful.

Caesar Milan has nothing on Mark Brooks. In our world, he is quite simply, the best!"

Nancy Thomas
Estes Park, Colorado
Dog Training for Fishers, Carmel, Zionsville, Noblesville, and Westfield Indiana
Brooks Canine Training Service provides complete dog training for all breeds of dogs. We are dedicated to providing you and your dog the best dog training available. Whether you desire obedience training for your canine companion or want to develop the natural abilities of your sporting breed for upland hunting, we offer training programs to achieve your goals.
Why Brooks Canine Training Service?
For your companion dog:
Solve your dog's behavioral problems (barking, jumping up on people and/or furniture, destructive chewing, housebreaking).
Instruction/training from a Certified Professional Dog Trainer with experience training all breeds of dogs.
One on one training is focused on you and your dog.
Training lessons are arranged around you and your schedule.
For your upland sporting dog:
Start your puppy
Finish your dog
Solve field problems
We Offer:
In-home Obedience Dog Training
Residency Obedience Dog Training
Behavioral Consultation
Upland Hunting Dog Training
A Certified Professional Dog Trainer will work with you and your dog using humane and positive reinforcement methods to open communication and gain control of your dog. So why not call Brooks Canine Training Service today and experience the benefits of personalized dog training.
Call today 317-385-3463